Cultivating their current and future audiences while training the next generation of theatre professionals
PCPA, Pacific Conservatory Theatre
PCPA Pacific Conservatory supports a unique, fully accredited vocational training program at Allan Hancock College for aspiring actors and theatre technicians. It is the only training program, with an Equity theatre company with fully integrated community college Career and Technical Education programs, in the United States. PCPA performs its winter and spring seasons in two venues in Santa Maria, California, where audiences can experience and support a season of engaging live theatre productions.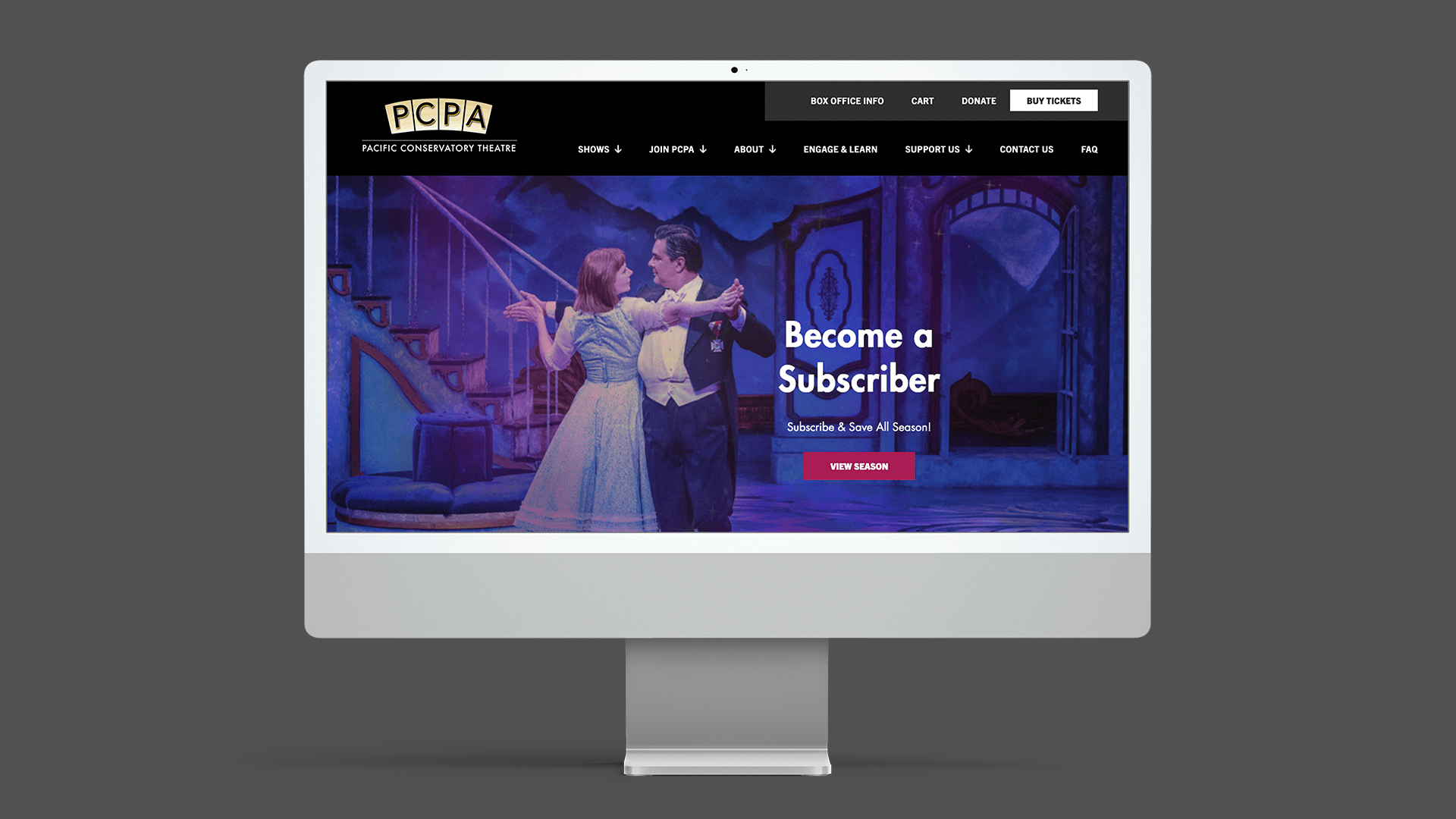 PCPA approached us to help rebuild a refreshed and optimised website, seamlessly integrate with their online ticketing system, Spektrix, as well as efficiently serve and direct their many different users where they needed to go. 
Spanish and English Event-goers, job-seekers, patrons, volunteers, students, and community members, to name a few, made up the varied user groups who needed a clear and efficient website experience to deliver them where they needed to go.
Their Spektrix integration required a branded and seamless online integration of features including donations, subscriptions, ticket sales, and account management.
With over 10,000 alumni since their beginnings in 1964, PCPA wanted a modern, easy to use, and robust website to continue to prepare the next generation of theatre professionals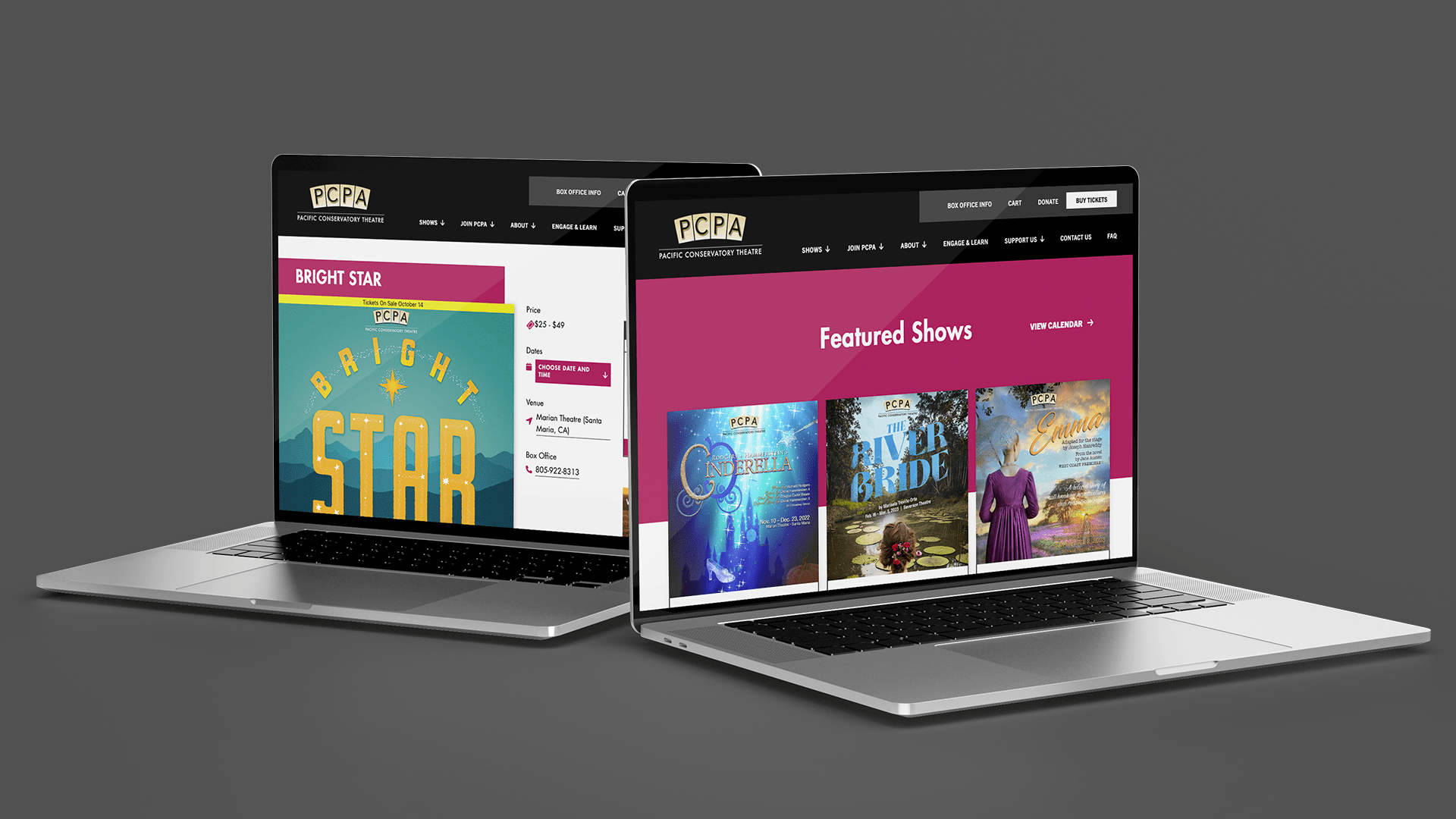 We worked together to define and identify each main user group that the website would need to service. PCPA needed to appeal to each of these groups while maintaining a streamlined access to information. From selling single tickets to theatre-goers, to serving application information to aspiring conservatory actors and stage designers, all the way to eager donors and volunteers, we mapped out user flows and restructured website information hierarchy to achieve these goals. PCPA is unique in that it is a performing arts venue, but also a school for technical set design as well as performance. Comparing industry related websites, applying user experience best practice, and modern layout design, we presented our recommendations and designs for review working with PCPA each step of the way.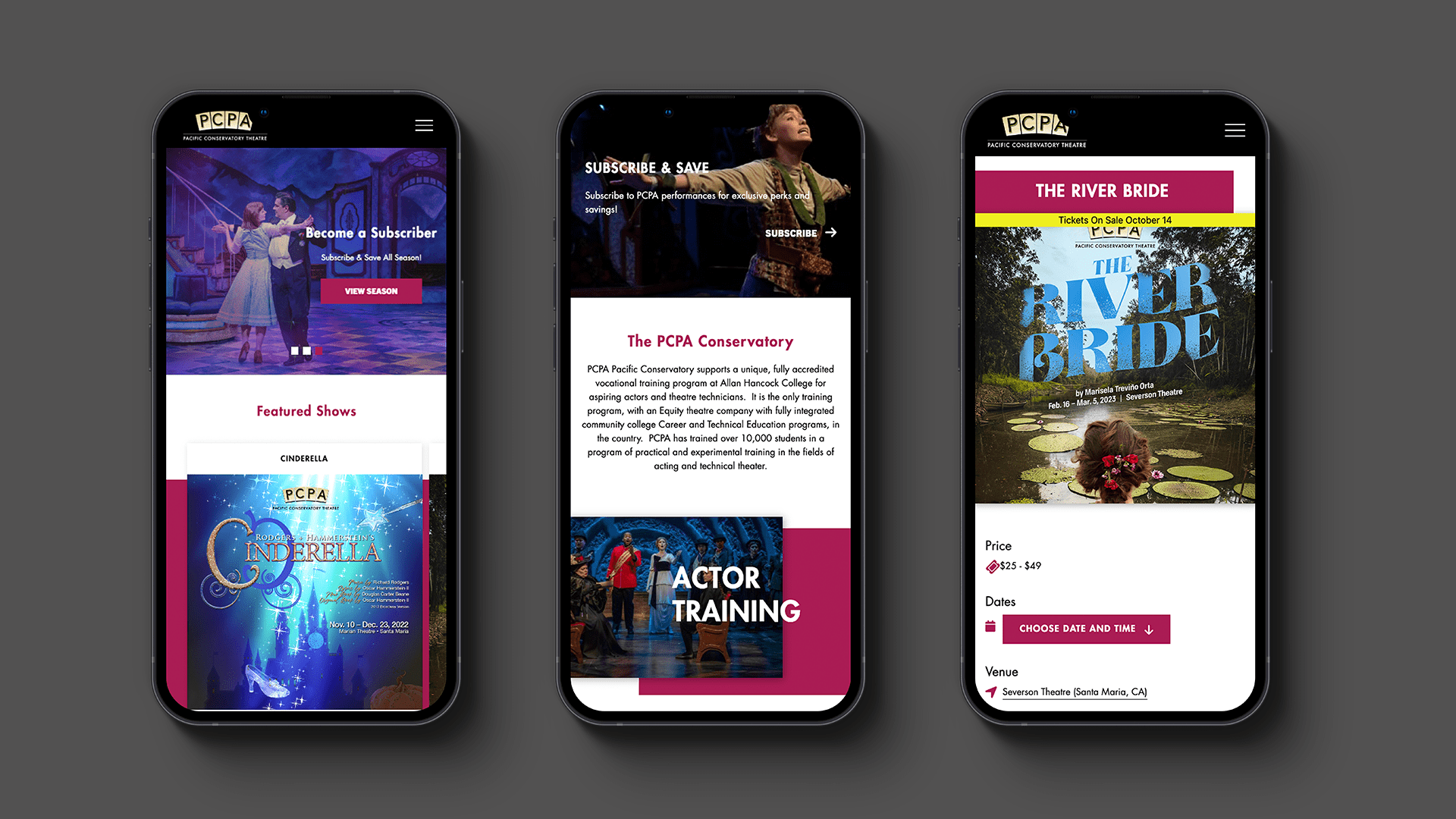 Based on approved milestones made up of client discovery, presentations, revisions, and approvals, we developed a branded, bespoke, and optimised website for patrons, students, and community members alike to engage with PCPA. Built with these key user-groups in mind, the new website delivers a streamlined user experience where you could explore without getting lost, or quickly and efficiently navigate to your destination.
Our streamlined user-flow has simplified the website navigation by a 30% reduction in total page count while maintaining an easy to use user experience.
A fully integrated Spektrix API was configured to allow for ticket sales, donations, subscriptions, and more through the use of our very own MaestroPress WordPress plugin.
A robust WordPress CMS backend complete with client training sets the client up for success post-launch with options to add and edit website pages, content, and Spektrix events.  
Custom features identified early on in discovery came to life including a 'cast and crew' aka 'teams' function where entire rosters of individuals in a production can be easily added and organized on each production detail page. Staff and Students functionality was custom created and integrated with MaestroPress to redirect users to Cast & Crew pages in the event that they were also staff. Additional image gallery functionality for each Spektrix event page was added to further engage users looking for more information on a production. Marketing URL functionality was also added to simplify the highly technical query based URL structures generated by default in Spektrix so marketers can more easily share short marketing friendly URLs to their audiences.
Following the launch of their new website, we're proud to continue to host, support, and further optimise the digital home of the PCPA.
Discovery • informations architecture • website layout design • Content Management System (CMS) Integration • mobile/responsive website development • Spektrix integration • MaestroPress plugin configuration • website hosting • uptime monitoring • website CMS training for client team • backups • ongoing support & optimization